The Importance of Color Temperature and Accent Lighting in Enhancing Architectural Elements: Creating Ambience and Highlighting Design Elements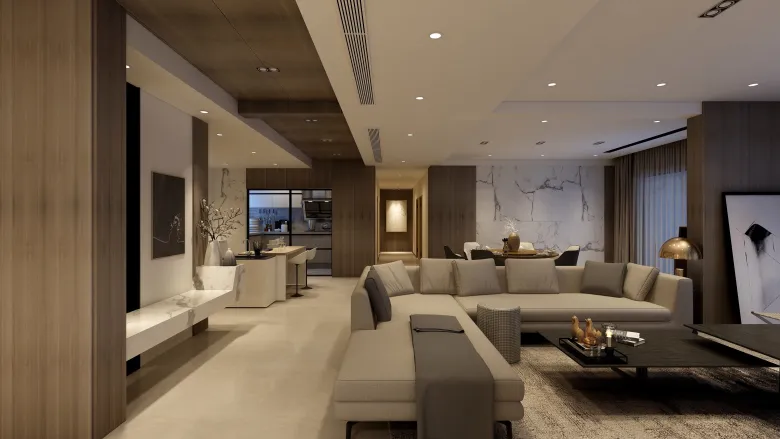 When designing a space, it's important to consider not just the architectural elements, but also the lighting. Lighting can greatly enhance the look and feel of a space and can draw attention to specific design elements. One important factor to consider is color temperature, which can greatly affect the mood and ambiance of a room.
Color temperature is measured in Kelvin (K) and refers to the tone of white light. Lower Kelvin numbers produce warmer, more yellow light, while higher Kelvin numbers produce cooler, more blue light. For instance, a candle flame has a color temperature of around 1,500K, while daylight can be anywhere between 5,000K and 7,000K. Using warmer colors in a space can create a cozy, intimate feel, while cooler colors can create a more modern, energizing atmosphere.
When considering accent lighting, it's important to think about what aspects of the space you want to highlight. This can be anything from artwork and sculpture to architectural features like columns or archways. Accent lighting can be achieved through directional lighting, such as spotlights or track lighting, or through the use of uplighting and downlighting.
Uplighting can be used to highlight architectural features on walls or ceilings, while downlighting can be used to draw attention to specific areas, like a dining table or kitchen island. Directional lighting, like spotlights or track lighting, can be used to highlight specific objects or areas of the room. By using accent lighting, you can create a focal point in the room and enhance the overall design.
When designing a space, it's important to consider how lighting can complement the architectural elements. By using color temperature and accent lighting, you can create a space that not only looks beautiful, but also feels inviting and functional.